No one size fits all: Firms turn to experience as they fit out spaces in the permanent hybrid setup
Cushman & Wakefield said modern workplaces will see variations of hybrid fit-out, either simple or complex.
Corporate occupiers grapple to fit out their offices to maximise space and create a high-performing hybrid workplace as the remote and in-office work setup becomes permanent, Cushman & Wakefield said.
Employers continue to put employee experience at centre-stage in the way office space is utilised whilst also ensuring the well-being of workers and incorporating environmental, social, and governance (ESG) standards in the design.
Sharon Wee, Head of Client Services for Southeast Asia (excluding Singapore), Project & Development Services at Cushman & Wakefield, spoke with Real Estate Asia Editor-in-Chief Tim Charlton on how employers can strike a balance in keeping workplaces flexible whilst maintaining corporate culture and equity of employee experience.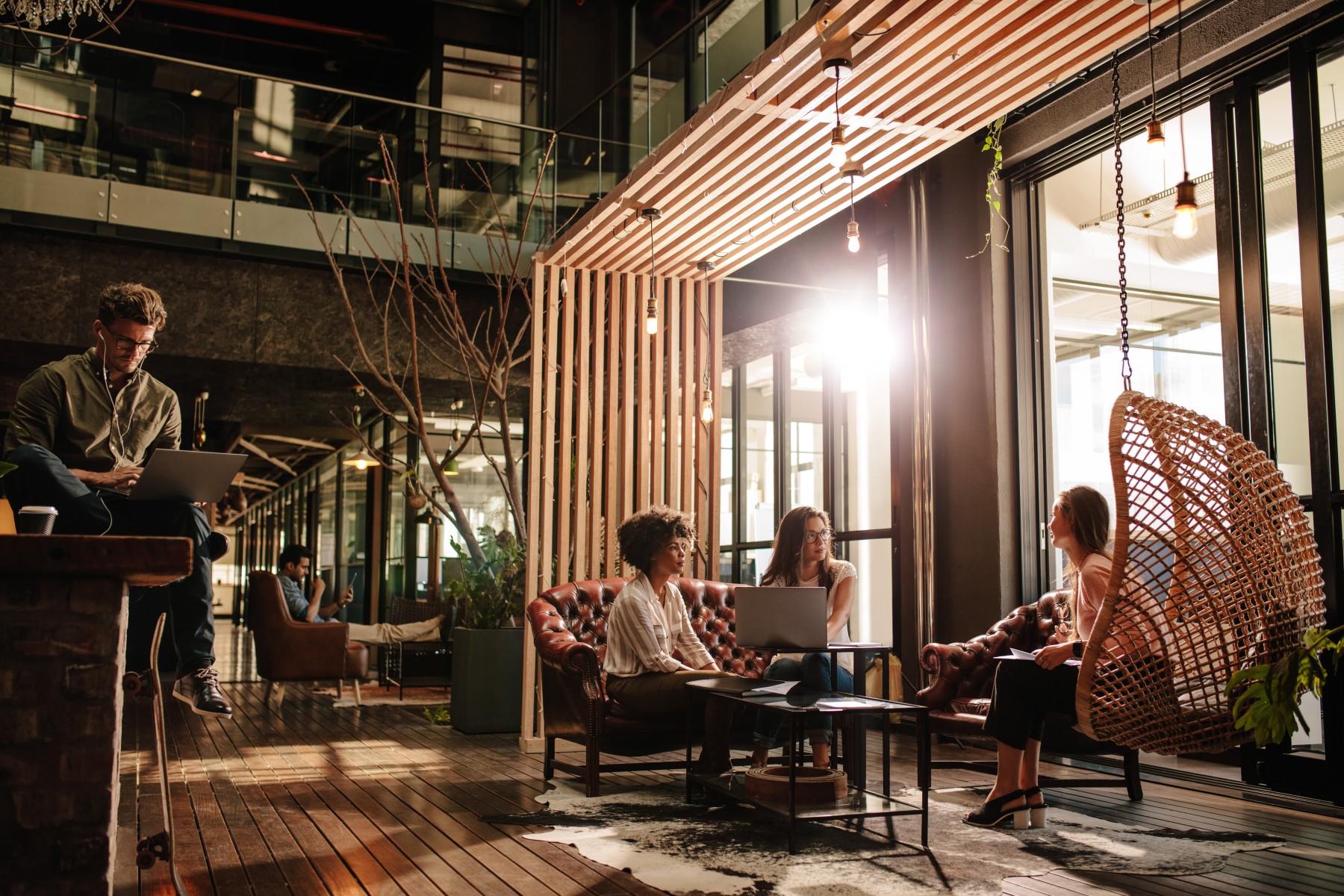 Your recent report discusses how hybrid is going to be the new permanent. Can you give us an example of how that looks?
This whole hybrid employee experience has been at the forefront of all organisations in the past five years because of the war for talent, especially in the Asia Pacific where the workforce is younger and tech-savvy. With the added complexity of the COVID-19 pandemic, we now have what is being described as a hybrid workplace. This modern workplace will have variations of a hybrid fit-out, either simple or complex, as employees and organisations come to terms with working from home and in the office. For example, offices with hybrid fit-out will appear to be more lifestyle-oriented.
How different will the office set-up be from the old hot-desking concept? Can you give us an idea of how this can look?
We are seeing major shifts from permanent workstations and assigned seats. A hybrid workplace consists of different types of settings for different types of work. It also describes the balance between working from home and the office.
If employees want to do more focused and quiet work in the office, there will be a designated area that is perhaps similar to a library quiet zone. If a collaborative space is preferred, loose furniture or something more lifestyle looking is the norm now. Some of the technology firms have modular arrangements that encourage the free flow of ideas during brainstorming activities and discussions. For people who are just coming in for half a day or a couple of hours, they have their designated workstations or non-assigned workstations, which are most likely booked via a bespoke application. The technology-enabled workplace is now the norm and demanded as it optimises the employees' workplace experience.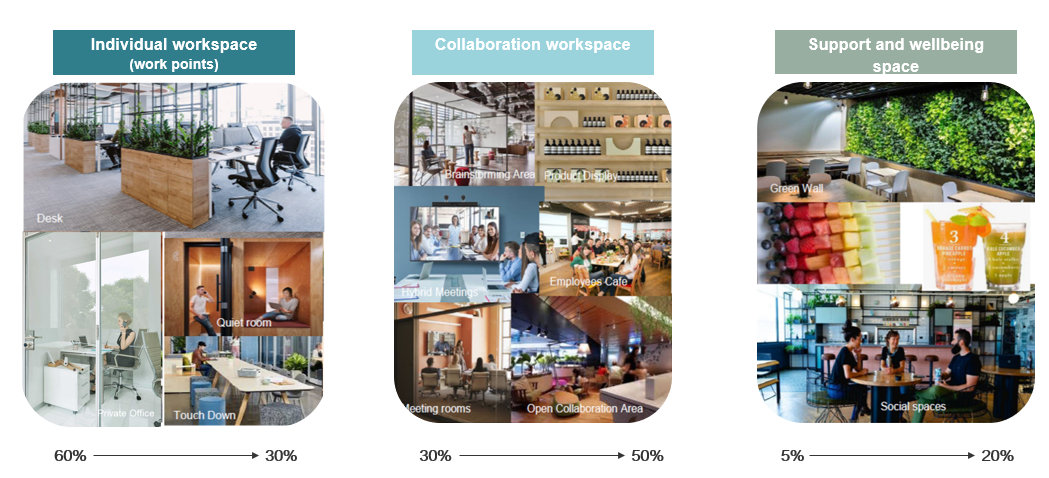 Does this mean that meeting rooms are a little bit less of a thing of the past when people are going to be sitting around the high tables in the kitchen, for example?
Yes, but it all depends on the culture of the company. We definitely see more of that in the US, Europe, and Australia, as compared to Asia and Southeast Asia. This is the culture we advocate to our employees and clients, as well. You might not need a six-pax meeting room for a casual conversation with a colleague, it could just be a coffee room chat. For culture building and branding purposes, organisations may prefer such activities to take place within their spaces instead of an external coffee shop.
Educating employees on the right etiquette in terms of using meeting and conference rooms for appropriate tasks and events becomes essential. Right-sizing and using the meeting rooms appropriately is one of the areas in workplace strategy that we address with our clients.
Now Cushman & Wakefield have a workplace strategy tool called Experience Per Square Footᵀᴹ (XSF). Can you tell us how that works?
Employee experience has been top of mind for clients in the past five years. What Cushman & Wakefield has developed is a data-driven tool, utilising sensors and surveys to measure and compare the experience of the workplace for individual users. This XSF tool statistically uncovers real estate and workplace metrics relating to employees' engagement and experience.
But data is only data, what we layer on is the interpretation of this information to help clients realise what a high-performing work environment looks like. And during the COVID-19 pandemic, Cushman & Wakefield has adapted this tool to capture the work experience at home and in the office. A good example would be the work we have done for LinkedIn, which is renowned for the quality of their work environment. We compare and contrast over 30 LinkedIn offices across the globe with other clients and determine what a high-performance workplace looks like. Thereafter, we suggest the appropriate remedial action, which might be an upgrade or reconfiguration. The application of thoughtful design and fit-out standards is crucial in order to reflect the role and purpose of the office which is all about employees' experience, engagement, collaboration, culture, and wellbeing.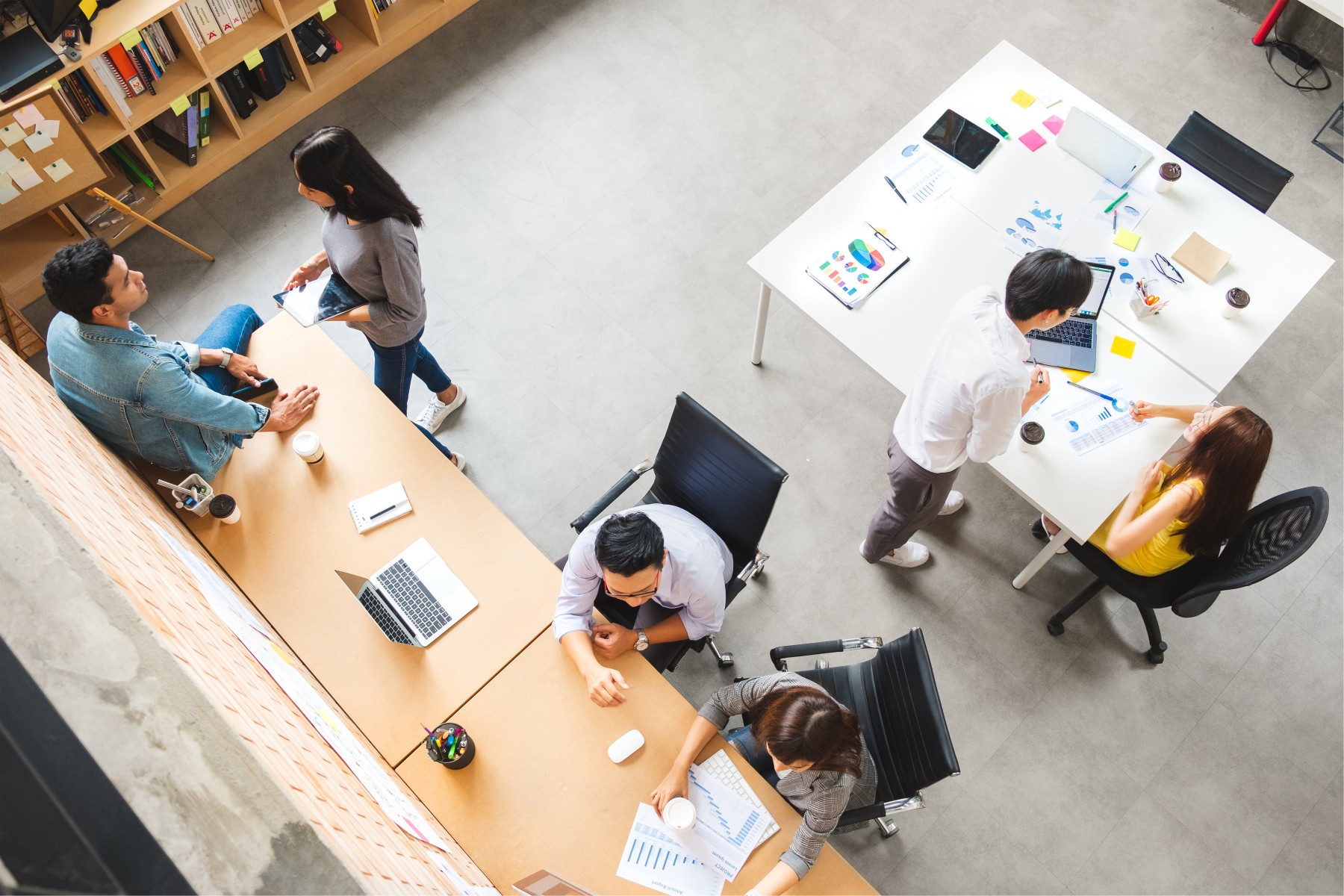 What are some examples of a high-performance workplace that the tool can help uncover? What can companies do as quick fixes perhaps?
An amenity driven setting as opposed to just a work desk with basic amenities results in a high performing workplace which improves productivity. In the long run, this will have a positive impact on the health and well-being of employees. An example of a quick fix would be keeping the workplace agile, by having more modular workstations and work settings that can be ramped up and down as required for different activities. Flexibility is the key here.
One thing that your report has highlighted was companies are looking for some ESG wins. What are some of the key ESG factors companies are looking for in their office?
Sustainability is not a new topic for either investors or occupiers in corporate real estate, but the approach to sustainability goes beyond seeking green and wellness certifications such as Leadership in Energy and Environmental Design (LEED) or Green Mark accreditation. Clients are setting their own standards and agenda, as we are at Cushman & Wakefield, around sustainability and roadmaps to carbon neutrality. This ties in to what was mentioned earlier about employee experience, where wellness is also top of mind. The talents today are also increasingly more environmentally, culturally and socially conscious. In order to retain and attract all these new talents, employers need to be visibly addressing sustainability and wellness by integrating all the relevant ESG measures into the workplace via design and aligning with their corporate values.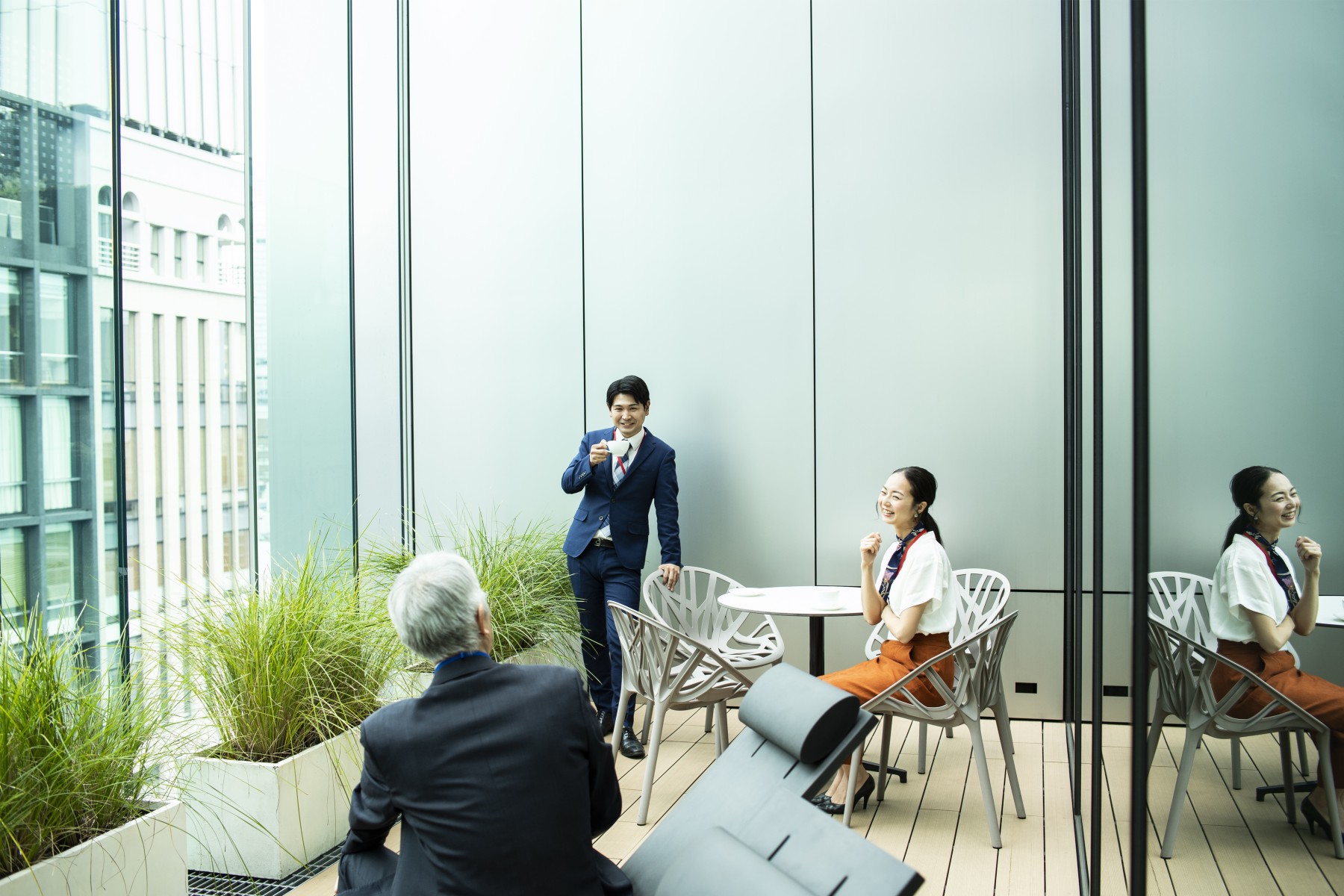 You've also just put out the much-anticipated 2022 Asia Pacific Office Fit-out Cost Guide. How are your clients using that? And what can we learn from that?
Cushman & Wakefield's annual Office Fit-out Cost Guide is used by both our international and APAC-based occupiers for their capital expenditure planning. For multi-located organisations, it could be used for annual planning or just a one-off project for budgeting purposes. In this year's publication, we have also included three key fit-out trends that will be useful for our clients, one of which is planning for permanent hybrid. We have been helping clients determine what this hybrid model means to them as different companies deal with the return-to-office in varying stages. It might seem daunting to them, but in this fit-out cost guide, we have also broken it down to three fit-out classifications—basic hybrid, collaborative hybrid, and advanced hybrid. Clients will want to know want to know how they can engineer an ideal hybrid ecosystem: how much space they need, what this space should look like, how much it will cost to fit it out, and how to meet the ever-growing design demands of the flexible workforce. All of these factors are being captured in the report.
Click here to download the Cushman & Wakefield's 2022 Asia Pacific Office Fit-out Cost Guide.