Henderson Land Group soars at the Real Estate Asia Awards 2021
Several of its projects have been recognised for their remarkable achievements and cutting-edge innovations.
Hong Kong's leading property developer Henderson Land Group wins big at the recently concluded Real Estate Asia Awards 2021, bringing home Office Development of the Year - Hong Kong, Residential Development of the Year - Hong Kong, and Redevelopment of the Year - Hong Kong under the Development Awards category for their Murray Road, Fanling North, and Square Mile projects, respectively. The firm also bagged the Sustainable Development of the Year - Hong Kong under the Project/Initiative Awards category, also for their Murray Road project.
Their successful project Murray Road became a duo winner as an upcoming icon in Hong Kong, with its internationally acclaimed Super Grade A office infrastructure. Meanwhile, the Square Mile project triumphed as it is considered to be a holistic urban renewal project that spearheaded the transformation of an aging residential and industrial district. Furthermore, Fanling North's new development pioneered healthy living in the massive government-planned North East New Territories development.
These projects, on top of being a benchmark in the real estate industry, made Henderson Land victorious at the inaugural Real Estate Asia Awards.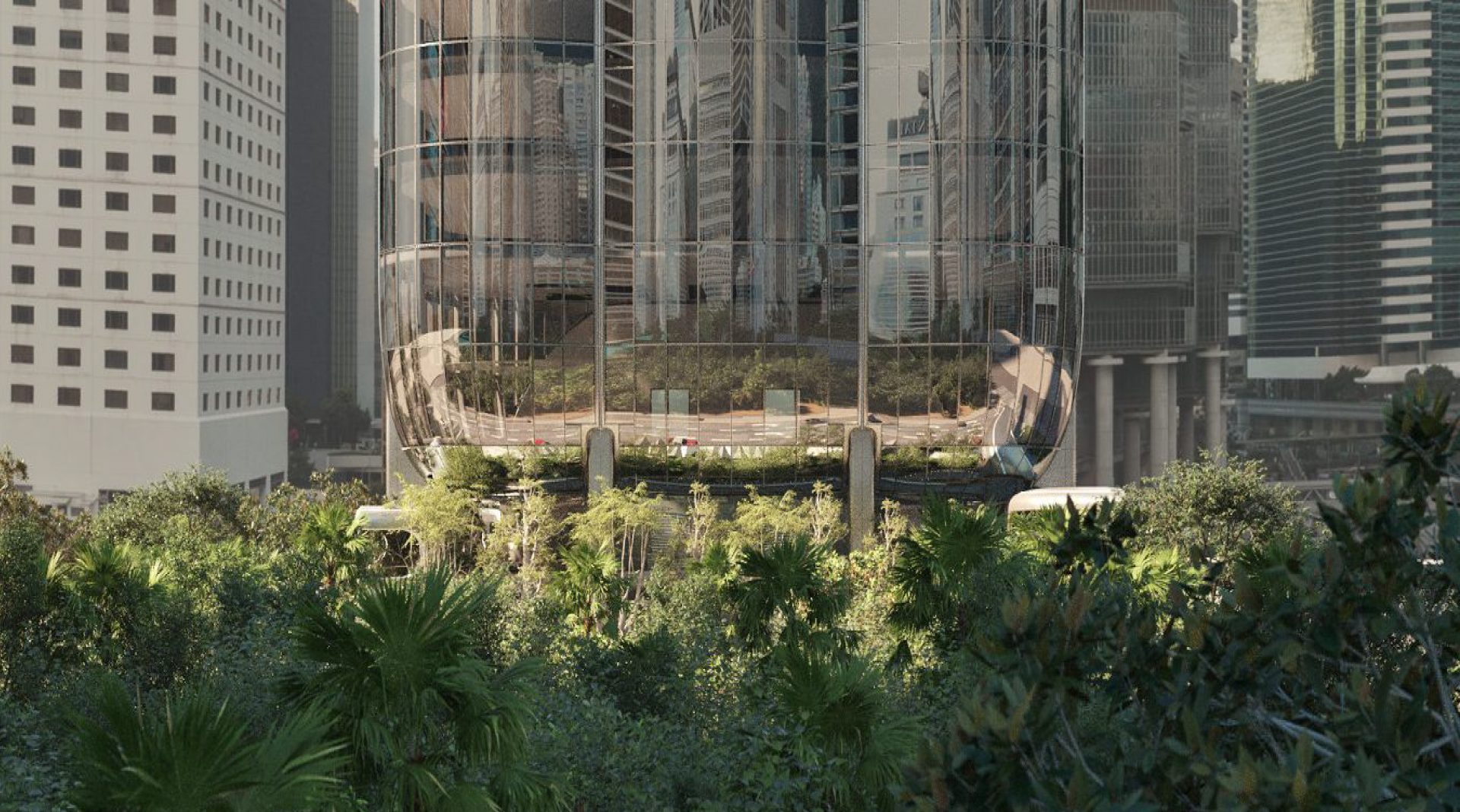 Render by MIR
Murray Road—the new commercial development icon
The 36-storey Murray Road commercial building, which received half of the developer's four awards, is expected to be an inspirational, iconic building for the 21st century Hong Kong – featuring super Grade A offices, a premium restaurant, a Sky Garden, and the rooftop Skylight Room for exceptional events. It aspires to be a new model of commercial development with Smartness, Sustainability, Health & Well-being, Resilience, and User's Experience vividly exemplified.
Construction is underway and is scheduled for completion in 2023.
Located in the heart of Hong Kong's central business district, the tower provides naturally lit, column-free, long-span open office space, with a floor-to-floor height enough to give maximum usage flexibility. The sculptural built form is actually a breakthrough in facade technologies, achieving the project team's aspirations in art and science.
Moreover, it will reduce energy consumption and operational carbon emissions as it combines passive design with a host of project-specific innovative features. With their mobile phones, users can also intuitively control window & blinds operations, zonal thermal comfort, circadian lighting, amongst others. The tower also incorporates a smart contactless access control whilst upholding a high-security provision, all aimed towards the users' convenience and better pandemic defense.
The design of the commercial building centres on a steel structure, enabling expansive office spaces and a breathtaking lobby that shelters courtyards and gardens. It features footbridges leading directly to its large green spaces, and surrounding amenities.
The tower's environmental monitoring system will also detect the degree of occupancy and indoor air quality, automatically adjusting the indoor air temperature, humidity, air purification, and fresh air volume supported with a sophisticated desiccant dehumidification system for fresh air intake. This forms part of the purpose-designed AI-enabled IT infrastracture to create an "Office for the Future".
Square Mile redevelopment
Square Mile is a holistic urban renewal project, spearheading the transformation of an aging residential and industrial district of western Kowloon, Hong Kong. It is currently near the completion of its third phase, with the previous two being completed and occupied.
Beyond its aesthetic appeal, the project is also replacing dilapidated old buildings with modern towers that have curved facades on the lower two floors, dispelling the claustrophobic feel of the formerly narrow lanes.
Whilst most redevelopment projects in Hong Kong typically entail orthogonal structures that fully occupy their plots, with buildings never "talking" to one another, Square Mile is a radical departure from this approach, as individual structures are designed to interact with and complement one another.
As buildings are set back from their site boundaries, with curving lower facades enabling wider pavements and inviting passageways, Square Mile is pedestrian-friendly, enabling improved airflows.
Fanling North NDA's 'healthy building, healthy living'
The Fanling North New Development Area (NDA) Residence, Phase One, is the first of Henderson Land's "New Satellite Town 6-Site Comprehensive Development" within the area.
The residential development takes momentum from the massive government-planned North East New Territories development to boost housing supply. It is the first to holistically promote "healthy building, healthy living," which is largely achieved by scientific approaches in creating people-centric innovations.
With the importance of healthy living amplified due to COVID-19, the Group addresses this by implementing purposeful designs that provide a healthier lifestyle for its residents, exemplified through infrared and/or mobile controlled touchless door entrances, lift controls, toilet fittings, light fixtures, amongst others.
In designing the Fanling NDA, the project team also innovated two advanced custom solutions to combat the virus: an intelligent Internet-of-Things enabled "Lift Sterilisation Pod," and a holistic "Depuration Porch" for the apartments. Both are now patented, and endorsed by the China National Intellectual Property Administration with Novelty.
The development is also complemented with an ecologically healthy, and aesthetically pleasing outdoor environment for a sustainable residential community with biodiversity.
As one of the market leaders, Henderson Land hopes this all-embracing sustainable project to serve as a benchmark for those in the industry with similar health and sustainability goals, especially amidst the current pandemic.
Banner photo rendered by Arqui9
This article is prepared to briefly introduce the above award-winning development projects that are under the portfolio of Henderson Land Group or its related parties. It is not intended or purported to promote the sales of any residential property of the developments mentioned herein.