Capital raised by REITs could top $20b in the Asia Pacific in 2022: APREA
This as investors become more comfortable with REITs and more industrial portfolios gets listed.
2021 has been a remarkable year for Asia Pacific Real Estate Investment Trusts (REITs) in terms of listings and acquisitions. This trend is expected to continue and 2022 will be another year to look forward to as the sector gains traction with investors.
Last year, there were about 30 newly listed REITs in the Asia Pacific which raised over $12b in capital –11 of which are from China. This year, REITs' initial public offerings (IPOs) are expected to remain active with more industrial portfolios from emerging markets seen to be part of the listings.
Capital raised by REITs in the Asia Pacific could reach over $20b in 2022 as sentiment recovers and more investors become familiar with the asset class, according to the Asia Pacific Real Assets Association (APREA). Similar to 2021, cross-border acquisitions and REIT mergers and acquisitions (M&A) will continue to be active.
APREA's CEO, Sigrid Zialcita, spoke with Real Estate Asia Editor-in-Chief Tim Charlton about the growth of REITs in the region and how the organisation will help industry leaders in meeting their net-zero agenda.
Let's just have a quick look in the rear-view mirror. What real estate trends did you see with your members last year?
There were several notable trends in 2021 despite the pandemic still hovering. The first one is on new REIT offerings. It has been a banner year from an IPO perspective. There were about 30 new REITs that were listed, including 11 China REITs, which raised over $12b in the Asia Pacific. This could be one of the highest ever.
Much of these REIT IPOs happened in China and the Philippines. In the Philippines, despite the dislocations brought on by the pandemic, REITs have had a very good year. South Korea is another market that I would say has seen heightened REIT IPO activity and that's because the government has been very supportive. There is also strong demand for straightforward stable income yielding assets and REITs offer that.
The other critical component to this is that, as an asset class, REITs are a catalyst for sustained urbanisation. In the case of China, for example, the government has targeted REITs to promote economic revitalisation via infrastructure REITs. So, REITs are seen as a tool that can rejuvenate growth.
The second defining trend that we saw in 2021 was cross-border acquisitions. It was at a record level. Over $10b in cross border acquisitions by the region's REITs were reported by Real Capital Analytics. Why this happened is that part of the activity that was supposed to happen in 2020 got pushed to 2021 because of the pandemic. This resulted in an exceptional year.
This is mainly fuelled by Singapore. Just to put this into context, Singapore REITs are unique because the government allows these vehicles to acquire assets overseas, primarily because the city-state is quite small. Many of the acquisitions also happened outside of Asia, mainly in the US and the UK, spurred by REITs' improved valuations and a very conducive financing environment.
The last trend that we've seen and quite notable would be the REIT M&A boom. We've seen a lot of M&A activity in Singapore and Australia. Japan also had its first successful privatisation of a REIT. If you're wondering why M&As have been quite popular, it's the importance of scale for REITs, and size matters. The larger capitalisation allows them the heft to compete and seek out investment opportunities at scale.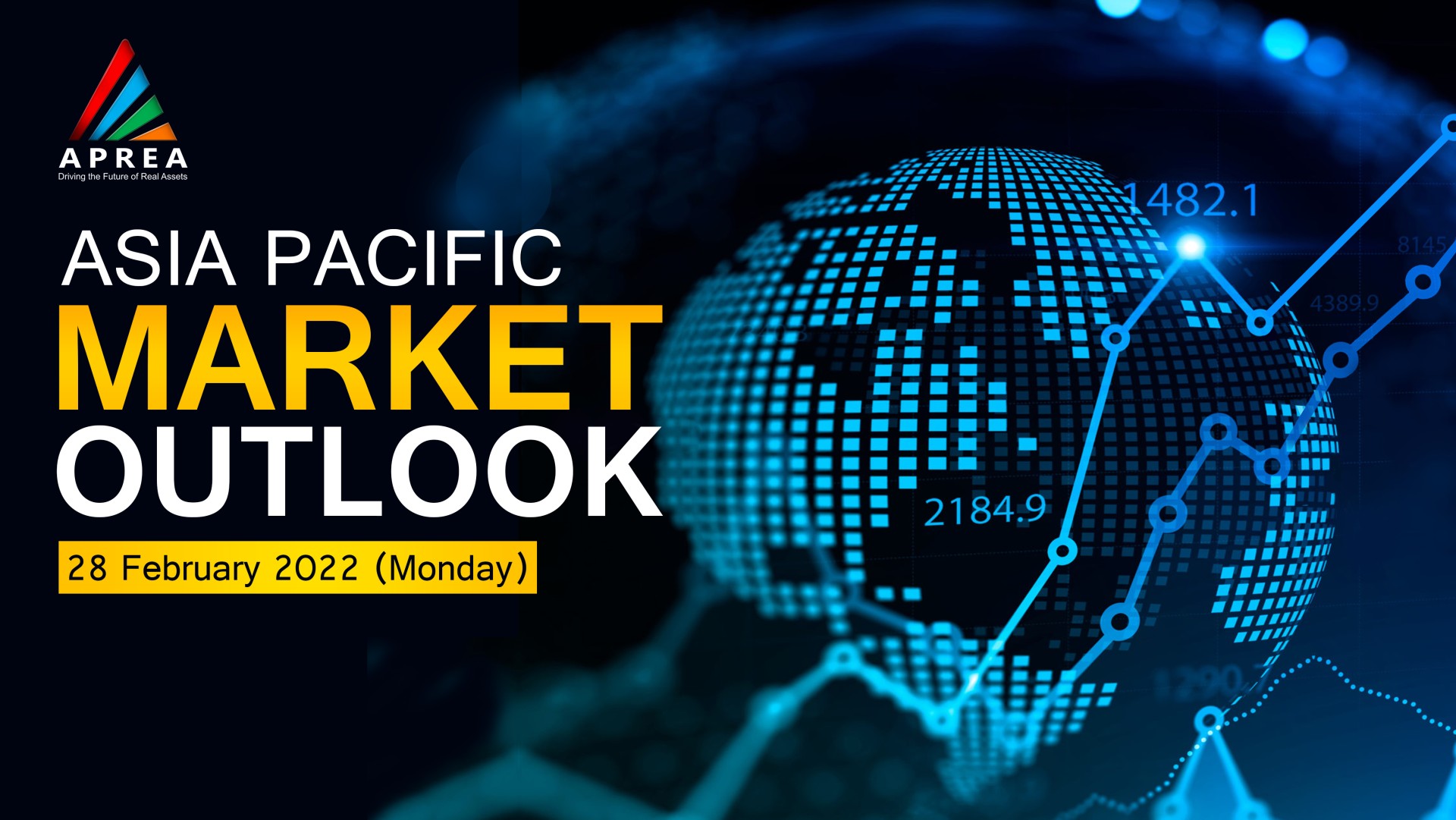 The growth of REITs is one of the key themes in APREA's Asia Pacific Market Outlook, a hybrid event that delves into 2022 as a year of transition, with economies moving toward recovery and countries adopting a more viable "living with COVID" strategy.
Coming into 2022, is there anything you can foresee? What do you look forward to this year?
It's going to be more or less the same trends we've seen over the past year. I think from a cross-border acquisition standpoint, we're still going to be seeing a lot of that for several reasons. There's still a lot of capital here in Singapore. Not to mention, there's also a limited pool of good quality assets that they can choose from in the Asia Pacific. We're going to be seeing cross border acquisitions step up.
Primarily the target markets could still be the US, the UK, as well as in Continental Europe, where there are still a lot of assets that Asian investors find very appealing for two reasons: the freehold tenure and longer lease terms. Of course, Singapore REITs will be a dominant player but we're going to be seeing REITs from Hong Kong and Japan increasing their allocation overseas, as well. In South Korea, for example, a REIT holding Australian assets is likely to debut on their stock exchange.
Higher interest rates will be a concern. The Federal Reserve has already signalled a tightening cycle. The Monetary Authority of Singapore is also wary about inflationary pressures. But we have to keep in mind that rates are coming from a low base. In addition, not all central banks in the Asia Pacific will be following the same trend. There are still going to be many who will be maintaining their favourable monetary policies.
The other trend is that momentum for REIT IPOs will continue. What you've seen in the Philippines is just the beginning. We're going to be seeing more in 2022. Industrial portfolios will also be part of these. This is quite interesting, because traditionally, in the emerging markets, REITs tend to be focussed on traditional office assets. Industrial REITs are already common in many of the developed markets.
In the Philippines. Double Dragon and Jollibee have partnered to set up the first industrial REIT, which could this year. It's a good thing because obviously, the backdrop that we have today supports the fundamentals of an industrial portfolio.
Thus, we are bullish that this is going to be another banner year for IPOs, M&As and cross border acquisitions. And what we do expect is that, with the recovery being underway in the region, a lot of these underlying assets will benefit. We can expect REIT performance to improve for this year. The GPR/APREA REIT Composite Index, which tracks REITs' total returns, is likely to set fresh peaks in 2022.
Do you have any idea how many new REITs IPOs we might see this year?
Last year, we were saying, maybe around 20 REITs, which turned out to be over 30. But what's going to be a gamechanger here is the amount of capital that will be raised. Last year, we even thought it was just $7b and when we rounded out 2021, it turned out to be almost double at $12b. This year could be much more because in China, for example, a second batch is being rolled out. Last year, it was 11 but with the scale of assets in the country, it is just the tip of the iceberg.
Could we see $20b REITs in terms of capital raised this year?
It's not far-fetched. I'd say because, last year when China rolled out their REITs, it was in June. So, you can just imagine if we had the full year. The Philippines, now that they have seen a number of REITs take off, there is more confidence and comfort to invest. This is why we exist as an organisation – we have that fiduciary responsibility of promoting real estate and infrastructure investments to the public and REITs are an asset class that hold these assets.
From a demographic's standpoint, we all know that in Asia, there will be a massive rise in the middle class. So, we think there's a lot of potential for Southeast Asia, India and particularly, China, where growth will accelerate. And that means, wealth could be invested in real estate, and REITs are part of that ecosystem.
If we look at the market capitalisation in the Asia Pacific today, we have about $400b. If we compare that with the US, it's over $1t. You can just imagine that the potential in the Asia Pacific could be much more. We have a ton of capital out here; we are just scratching the surface from a capital standpoint. In addition, we are seeing global funds allocating here and increasing their exposure to the Asia Pacific. That's great news. That means they're getting comfortable with the risk-return profile out here.
What are the initiatives that APREA is taking this year? You also have a new report, The Race to Net Zero. Can you tell us more about these?
We have just released this publication on ESG. APREA is a representative of the real assets industry in Asia and the majority of our members are on the buy-side. What we're advocating today is the incorporation of ESG criteria in the investment process. It has become a very important theme in the industry. What we're doing as an organisation is to make sure that our members are well equipped and informed, which will allow them to kickstart the process, if they haven't, and facilitate them in setting and achieving those targets as an organisation.
Many countries today have pledged to achieve carbon neutrality by 2050. We'd like our stakeholders to participate in this journey, as well. That has been a catalyst for the publication – The Race to Net Zero. We'd like our industry stakeholders to share what they're doing. It also encourages everyone to look at what they can do. There is nothing too small when it comes to undertaking any ESG initiative and we all have a responsibility in that.
We have a committee that's dedicated to ESG. As a group, we are looking to educate the public on ESG because it's such a big topic that sometimes, people forget the basics and why they embarked on it. So as an organisation, we have developed a beta website where our members and other industry stakeholders can access, in terms of best practices as well as the regulatory frameworks. We're doing this on a real-time basis because there's so much going on in the ESG space.
The second thing that we're big on is advocacy. We want to make sure that policymakers, particularly in the emerging markets, can put in place conducive regulations. This is the Asian Century. The Asia Pacific is home to the largest real estate market in the world and we want to make sure that growth will be sustained. That can only happen if we work hand in hand with policymakers across the region.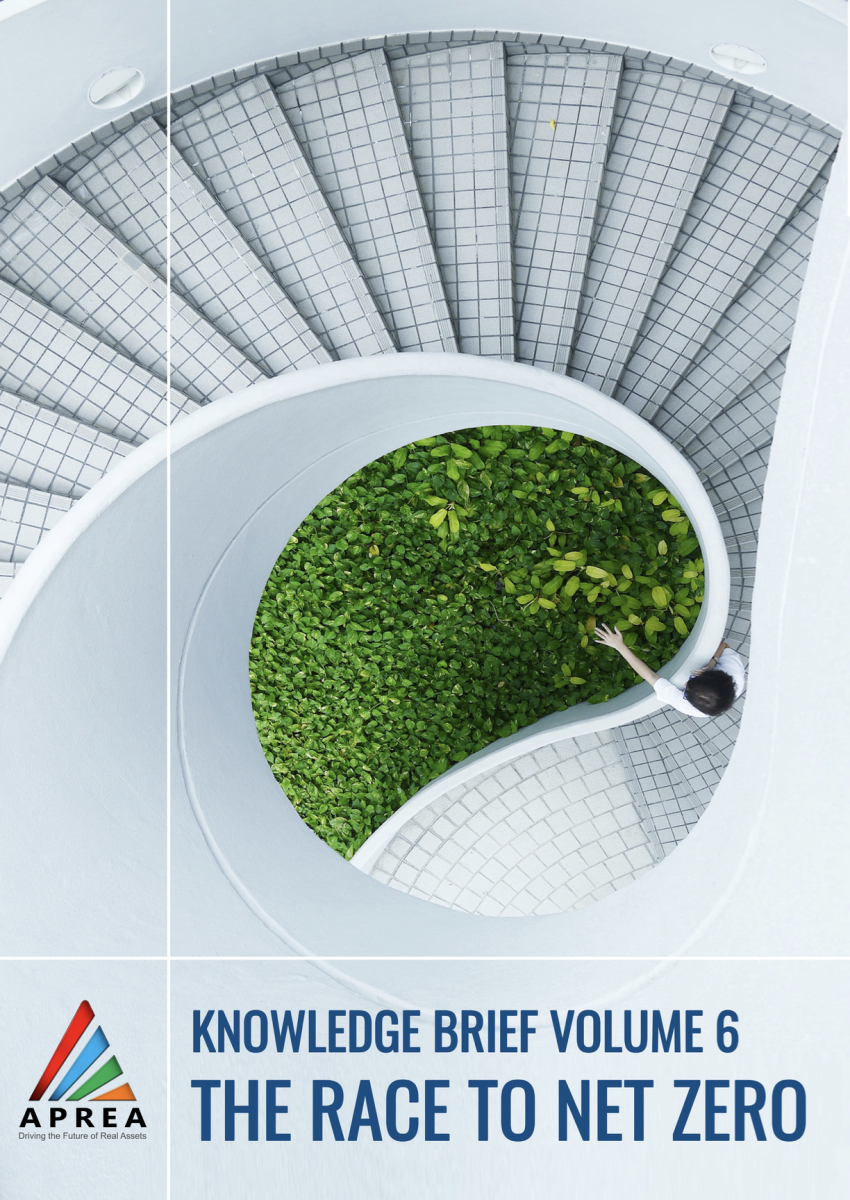 As the voice of sustainable investing in the Asia Pacific, APREA spearheads initiatives and projects in promoting ESG best practices, such as the newly launched volume of Knowledge Brief: The Race to Net Zero.