Office property market to recover despite high vacancy rates
Analysts expect it to enter the last phase of its down-cycle.
Hong Kong's office property market is in a state of recovery although vacancy is still high as corporate downsizing continues.
Because of this, overall net absorption remains in the negatives. According to JLL's Hong Kong Property Market Monitor, the overall net absorption in July was -89,000 square feet.
Compared to figures last year, gross leasing volume has improved as tenants resumed making real estate decisions after postponing them last year due to the pandemic.
"However, most leasing transactions involved only relocation or upgrading, with limited expansion cases. Net absorption was still negative as many corporates opted to downsize in challenging times. Rents continued to fall but at moderate magnitude compared with 2020, Nelson Wong, head of research at JLL in Greater China said.
In August, vacancy rate was at 9.6% with Kowloon East having the highest vacancy rates amongst Hong Kong's regions at 13.1%.
Central's vacancy rate rose to 7.7% at the end of August. According to JLL, some tenants have opted to relocate to more cost-effective locations; however, demand for premium office spaces in the submarket remained healthy.
Rental declines continue
Hong Kong continued to experience rental declines for eight consecutive quarters.
In the first quarter of 2021, rental decline moderated to 3.5% compared to 5.1% in the fourth quarter of 2020.
Savills reported that Wanchai/Causeway Bay registered the largest rental fall amongst all sub-markets at -4.3%, partly because of its exposure to co-working operators and financial services firms.
The first quarter (Q1) also saw Hong Kong Island rents fall by -4.0% whilst Kowloon rents were relatively stable, registering a 2.8% fall. Rents in Tsim Sha Tsui, Kowloon East, and Kowloon West fell by 5.2%, 2.2%, and 1.4%, respectively. Meanwhile, Kowloon West rents have proved relatively resilient since the third quarter of 2019 because downsizing has been less common for corporates situated in the area, where rents are said to be relatively cheap.
When the second quarter (Q2) arrived, however, Grade A rents still fell but were lower than last quarter at 2.6%. PRC corporates remained active in the leasing market and has proven to be resilient over the quarter and is largely driven by the financial services industry.
The proportion of Central Grade A offices occupied by PRC firms increased from 20.5% in July 2017 to 23.5% in June 2021 despite the challenging market conditions
In Q2 2021, rents in Central, Wanchai/ Causeway Bay, and Island East fell by 2.8%, 3%, and 2.6%, respectively, whilst overall Hong Kong Island rents recorded their lowest rate of decline since Q1 2020, registering a fall of 2.8%. Kowloon rents dipped slightly and remained relatively affordable to tenants, falling by 2.4% over the quarter. Rents in Tsim Sha Tsui, Kowloon East, and Kowloon West fell by 1.8%, 4.2%, and 2.9%, respectively.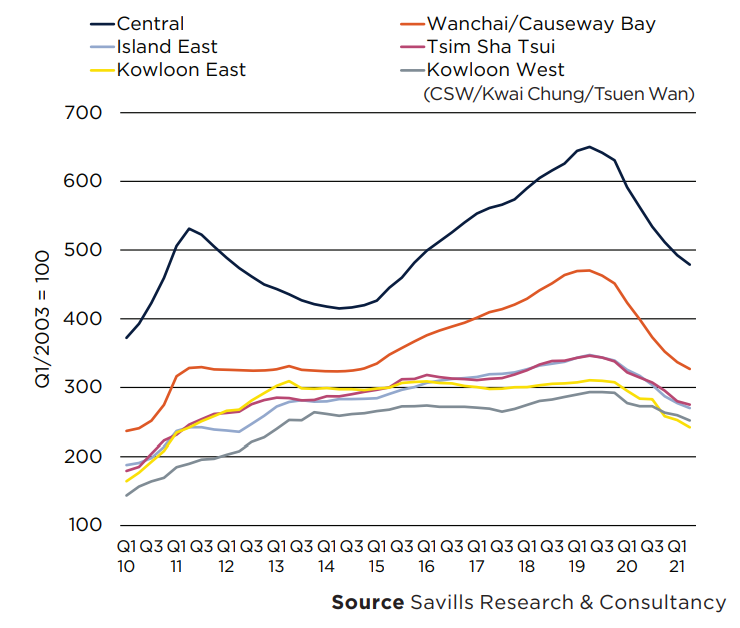 ​
Savills Grade A Office Rental Indices By District, Q1 2010 to Q2 2021
"Whilst there is broad agreement in the business community that the worst times are behind us, questions linger over when the best times will return, and tenants remain cautious," Savills said
Rising trends and demand drivers
In its Hong Kong Offices, H1 2021 report, Savills said that as vacancy continues to rise, landlords must compete more aggressively to fill space and rents must inevitably fall which is exactly what they have
done.
"Office rents are around 20% below peak levels of early 2019 and could slip further. When looking ahead, we face the obvious uncertainty of how long entry at borders will remain restricted and social distancing in place," Savills said.
The report said that Mainland businesses are likely to become a major driver of office demand over the next few years and this could rapidly be unlocked by easier travel to the Special Administrative Region. Another demand driver it mentioned is the initial public offering market, which could well post a record year this year driving demand for financial, professional, and business services. Potentially tech businesses could also extend their reach from elsewhere in the Greater Bay Area into Hong Kong.
Meanwhile, new trends have started to emerge such as the growing importance of amenities and flexibility in the office space.
According to JLL's Wong, tenants have started to reconfigure their real estate requirements.
"Many tenants decide to upgrade or reconfigure their real estate requirements in the wake of the pandemic. Flexibility and amenities are seen as more essential office features. Demand for flex space remains healthy and a number of business centre operators are expanding," Wong commented.
New technology: a drag on office property?
Savills noted in its report that new technology is also an anchor that put a drag on the office property market.
The report that even before the pandemic, some executives have started the practice of working from home. Additionally, offices were being given a new sense of amenity and hot-desking was becoming more widely accepted.
Some were even experimenting with new communications apps.
"There is a well-worn cliché in real estate that 'form follows function' and with technology rapidly changing the way we work, accelerated by a pervasive virus, form has had to follow. Work from home (WFH) has become a mandated way of working in many countries and given roomier residential accommodation, lengthy, expensive, and sometimes unreliable commutes, may well become an established practice, at least for a few days a week for office workers," Savills said
However in Hong Kong, Savills noted that they may not see this level of adoption in the country as transport infrastructure is modern, efficient, and reasonably priced whilst housing is notoriously cramped.
"With a greater availability of offices over the next few years at more competitive rents, employers may find that they can afford lower worker densities and more genuine amenity, luring many of us back to mingle once again with colleagues," Savills added.
Predictions
The extremely limited supply in 2020 and 2021 has been more than offset by shrinking demand which resulted in several quarters of rental declines. Savills expect that demand will recover later in the year, however, substantial new supply in 2022 and 2023 should see rents come under further downward pressure.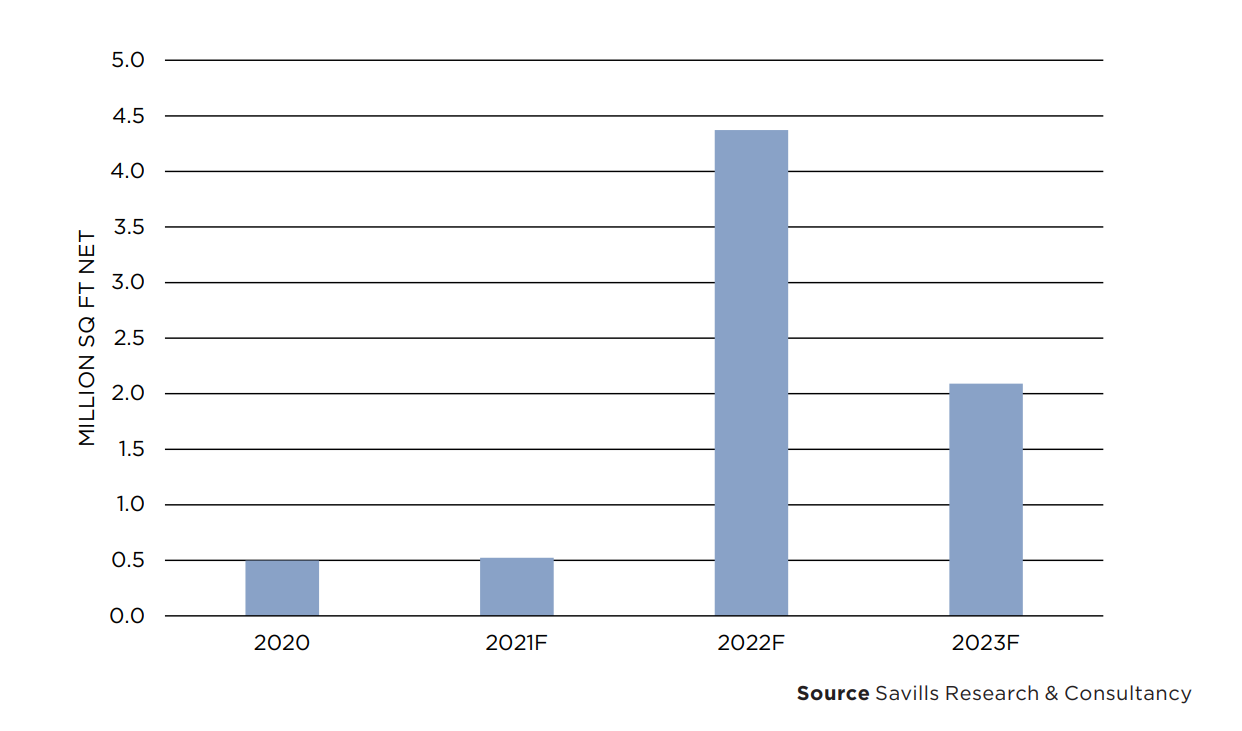 ​
Grade A Office Supply, 2020 to 2023F
Meanwhile, JLL's Wong observed that flexible working spaces have become more popular. Offices are now considered as the social hub for employees, who may look for options to work from home or at the office after the pandemic. Wong also expected some corporates may switch to "work-from-anywhere" mode with a mixture of head office, flex space, and WFH in the future.
For his prediction, Wong expects the office market to enter the last phase of the current down down cycle and to bottom out in the next 12 months.
"Rents are expected to grow moderately since 2022 due to the large amount of new supply coming to the market," Wong said.